Berryman® B-12 Chemtool® Total Fuel System Clean-Up
Formulated for vehicles that have not had regular fuel system maintenance. Uses H.E.S.T. and powerful detergents to maximize one-tank clean-up of intake valves, fuel injectors, carburetors,and combustion chamber. Dissolves gum, varnish, and carbon deposits in the entire fuel system to help restore lost power and peak performance. Improves starting, drivability, gas mileage, and injector life. Catalytic converter and oxygen sensor-safe.
---
Menu
Product Questions & Solutions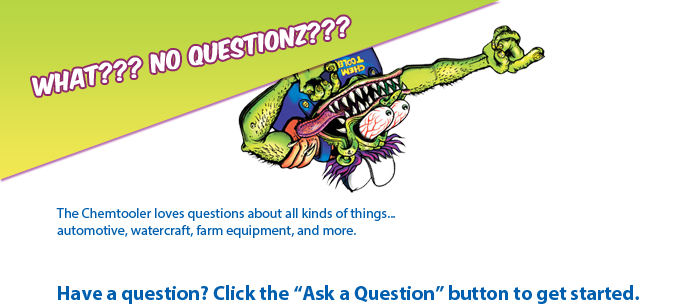 HESTimonials

My check engine light went on and the mechanic tested found it to be the CAT, i saw a forum someplace and they suggested Berryman's B12. Soon as I added it to a full tank in my Honda check engine light off in 2 days.
I had a harder time with the 2000 Miata. I added the B12 and my car kept firing randomly which caused me to remain wherever the heck I was until it took pity on me and started. I waited for another fill up and added more. So I get to a mechanic and he says I need a $700 new CAT. My car sat in that lot not starting for over 1/2 hr. Finally it started, I get on the highway and couldn't get it past 40mph. I pulled over and revved the engine for under a minute and pulled onto the highway with a brand new race car. I'm waiting and waiting for the 60 to get here to clean it all up. Instead of a new $700 CAT cost me $4 for a can of cleaner.
---

I was looking for a fuel injector cleaner to treat a rough idle on my 2010 GMC Sierra. There was 30 products to choose from at my auto parts store. I decided to get Berryman's because it was the only one in a metal can. I figured if it needs a metal can to contain it, it must be strong. I bought 2 cans. The first can straightened out the problem. I recommend to everyone and everyone has called me back to say thank you. I had a neighbor who did not drain his gas in his lawnmower for the winter. In the spring, he started it up and it was surging and would not rev up. I put about 2 ounces in the tank and told him to just let it idle for a while. Within a half hour, it stopped surging and ran like a champ. I now treat my lawnmowers with it. At the end of the season I put 2 ounces in the tanks and let them run until they run out of fuel. In the spring they start with one pull. I just noticed that my truck was getting 18mpg on a route that I take twice a week. I just put a can in and ran the route and got 19.5. With an increase of a 1 and a half mpg, X 100 miles, the stuff pays for itself. I now use it to clean throttle plates with a toothbrush. I love this stuff.
---

Used it in my mothers 2005 Nissan Altima, without it car misses and has P0301 truble code, started using an miss went away and check engine light went off.
---

I have a 79 Suzuki GS850g. Started to lose power while running and stalling out. Was going to get a carb rebuild, but tried the Sea stuff to no avail. Decided to try this product. Used 15oz in about 3 gallons of gas. Bike was running smoothly within 1/2 an hour. Would 100% recommend and will continue to use.
---
My grandson added a couple of ounces of B-12 to his 1997 Sea Doo that was stalling and hesitating. Amazing results in only about 5 minutes of run time on the water. I've never seen anything work so well; so fast.
---
I've used the Berryman B-12 Chemtool fuel system cleaner in my 70 year old 1947 Ford 8n Tractor for the past 7 years that I've owned it to keep it running rite. One bottle a season keeps my 8 N running like a champ whether I'm clearing snow from my driveway, mowing the grass or simply giving hay rides. Hunka B-12 really helps battle those ethanol Gremlins.
---
A friend bottled, boxed and shipped this product in S. CA in the 60's. We already knew it was great as we used it to get seasonal equipment unvarnished and purring after being idle all off season. Later working in a garage it was our prime tune-up solvent for fuel systems. I have always used this product for any fuel system and will never look back. It's the best! B-12 & Marvel – The Magic Team!
---
Hello,
My daughters 05 Mercury Sable 3.0 DOHC with 73k was running awful and showing multiple codes such as: p0430 / p0174 / p0316 /p0305 / p0306/. A local shop wanted to charge $600 to replace several parts. Knowing I had used STP injector cleaner a week or two before the car started acting up I didn't think any more cleaner was necessary or would even help. I was about ready to give in and pay for the repairs to help her out when I seen your B12 ChemTool product at a local Meijer and decided to give it a try. After a couple several mile test drives it started to run like new! No more codes either! I'm so thrilled that your product worked so well I bought a few more bottles for preventive maintenance in my other vehicles. We are so relieved and grateful to avoid a costly and unnecessary repair. "Thank you!" really "Thank you!"
---
NO BS! My 1987 Ford Ranger 5sp 2.3 efi Has been used to haul 2 adult horses, with trailer and 1/2 ton of hay thousands of miles up and down I5 over the years. I used it to pull my 2008 Freightliner around town when I accidently ran it out of fuel. I've delivered 2 ton loads of hay throughout western Washington, this truck has over 225k miles on it and I would drive it to Maine tomorrow without giving it a second thought.
My dad INSISTED I use Berrymans and ONLY Berrymans on my 1st car and in the last 40 years I've owned 4 Vehicles, the last being my Ranger, all super high milage and I've used only Berrymans products (and routine maintenance). Now I might be the luckiest car guy alive or… It might just be the 40 years of Berrymans products. Myself? I don't believe in luck. Use Berrymans. It's good stuff!
Mike in Washington
---
1999 Ford Ranger 3.0 with 168,000 miles. The truck had an issue where sometimes when I started it (cold), it would run rough and throw a misfire code. It progressively got worse to the point where it was happening practically every time I started it. I knew it couldn't be the spark plugs because they were practically brand new with only about 5,000 miles on them. So, I decided to try an injector cleaner as my first troubleshooting step. I chose B12 Chemtool because it was cheap and I understood that it was one of the more powerful cleaners. After pouring the entire 15oz can into my tank and filling up, it only took about 10 or 20 miles before I noticed that the starting problem had gone away completely. I am honestly impressed enough that I wanted to submit my testimonial to this website because I hope this product is able to help others as it has helped me. I plan to use B12 Chemtool in all my cars routinely, say, every 30K miles to make sure the fuel system in clean to prevent this problem I had with the truck.
---
VOC Compliance
VOC Compliant in all 50 states