Engines get dirty. No matter what type of machine you have — car, truck, motorcycle, tractor, boat, or RV — it is important to take the time to degrease your engine.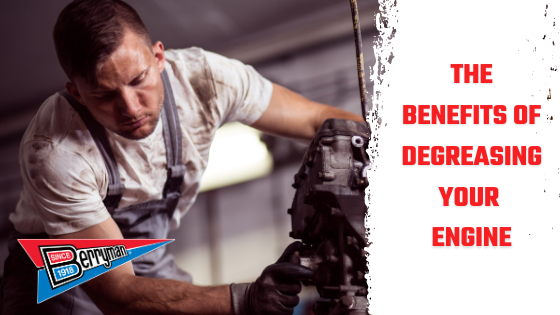 Let's first talk about the benefits of degreasing your engine.
Keeps your engine clean.
When is the last time you have degreased your engine? That long ago, huh?! Can you imagine how much dirt, grease and grime is caked onto that bad boy? Time to get rid of all that debris and make your engine shine once again. 
The process is quick & easy with the use of well-made products.
Yes, you could wipe away at every bit of buildup… or you could grab a low-cost degreaser that makes the job 10x easier! Get into those itty bitty crevices where your hand and rag won't fit. Conserve water and time with a fast spray on/rinse off cycle.
Saves you money in the long run.
Along with unnecessary wear and tear, having a dirty, greasy engine can cause issues down the road. You may even find a fluid leak (or two) that you didn't already know about! 
Properly cleaning your engine every 6,000 – 10,000 miles will help prevent grease from covering up those small, unseen holes, so you can fix any leaks right away.
What types of engine degreasers are out there?
Liquid
Liquid degreasers are very potent and usually they need to be mixed with water before being applied. They are powerful and known for eliminating grime and grease. But with great power often comes more danger… These products can greatly injure your skin and eyes if you make contact with it. If it is not diluted properly, it can also eat away at plastic or rubber components in your vehicle. To mitigate any danger or risk of injury, we recommend only using liquid degreasers if you know how to properly use them.
Ammonia Based
Ammonia based engine degreasers are typically used for interior components such as chrome and glass. Unlike liquid degreasers, ammonia degreasers are not nearly as powerful.
Foam
A foam degreaser is typically used for the outside of your engine. It is also most often used when you have a lot of electronic components in your engine bay. With foam you do not have to use water to rinse the foam off, therefore you lower the risk of damaging those electronic components. 
A Proprietary Blend of High-Performance Detergents and Emulsifiers:
You caught us — we saved the best for last! Free of solvents, abrasives, phosphates, and VOCs, Berryman® B-33 Engine Degreaser is a fast-acting, safe, eco-friendly aerosol that easily penetrates road grime, dirt, grease, and oil. Along with being quick and easy to apply, you don't have to mess around with mixing any chemicals.  Just spray your engine and rinse it off. So simple — the job will be done within minutes! 
For when, why and how to degrease your engine check out Degreasing your Engine: When, Why & How on our blog. Or find tips for flushing out your engine at Properly To Clean Your Lawn Mower Engine.
Other articles you might like: